Coinsdrom Review
Coinsdrom Review
Coinsdrom provides licensed crypto exchange services for a global audience, with many interesting options on its list such as BTC, ETH, LTC, BNB and others. The exchange is licensed to provide virtual currency services and thus it fully  complies with the appropriate regulations. Working with an exchange like this one comes with several benefits, including tight security, full transparency and protection of client funds and information. If you want to learn more about Coinsdrom and its top features, read this review until the end.

Crypto exchange conditions
With Coinsdrom you can
start exchanging bitcoin today
at a very attractive market price. The signup process is truly simple, yet no concessions are made when it comes to procedures such as AML (anti-money laundering) and KYC (know your client). Both private and corporate have the option to open an account with Coinsdrom and exchange small or large amounts. Deep liquidity is ensured when you work with top market providers, so you can buy/sell at the best rates.

The steps needed to complete a transaction are very intuitive, and you can find all of the information on the website. What you need to do is deposit funds, select a crypto, provide a wallet and agree with the terms. Keep in mind that it might take some time for the company to process the request, since they check each transaction to make sure it is secure. If you have no experience in buying and selling crypto, you shouldn't be worried because the process truly is straightforward.
KYC rules
This is a licensed exchange, so naturally there is an emphasis on KYC. This verification step is mandatory and requires you to provide several documents. There is a different list of requirements for private and corporate clients and all must pass verification before proceeding with an exchange transaction.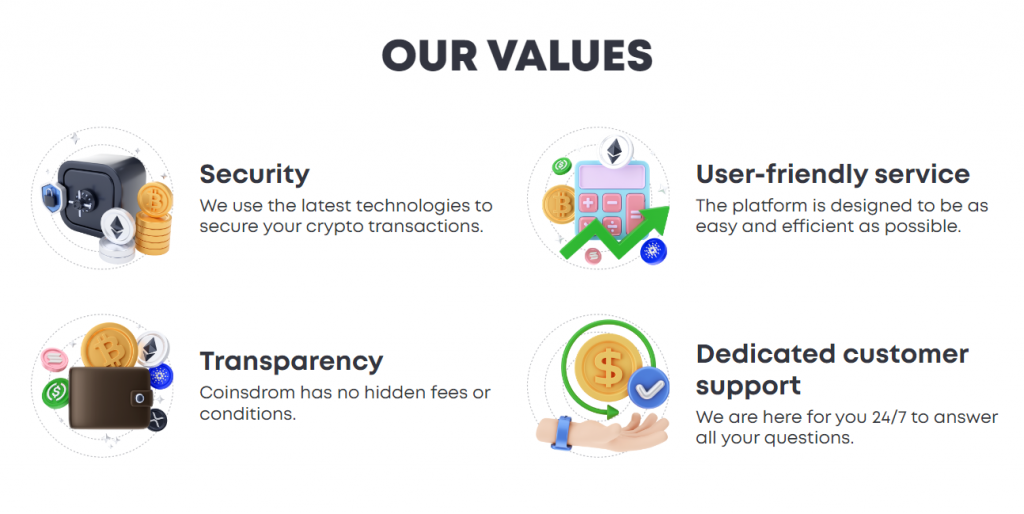 Security
Since cryptocurrencies are a relatively new currency, security remains a very important issue. You have to do your due diligence and make sure that nobody can access your funds.
Coinsdrom
uses encryption technologies to secure customer data and provides a lot of  information about customer safety. Your coins are not stored on the exchange. Instead, you are asked to provide a wallet before placing the order. Once the company processes your transactions, the tokens are sent over to the wallet you provide. Note that this brand does not provide a wallet, but acquiring one is easy (simply search online).
Conclusion
Coinsdrom shows commitment to ensuring optimal exchange conditions and the best market rates. Its clients are in a favorable position to buy/sell crypto and take advantage of the volatility in this industry. After reviewing its offer thoroughly, we can truly determine that this is a reliable exchange to work with.